Children's Playgrounds and Playrooms
At HUH, we understand the importance of making home a welcoming place for the whole family. Several of our larger buildings have playgrounds, as well as playrooms designed for children eight years old and younger to enjoy with their caregivers.
After reviewing our GCP Playroom Policies, eligible residents may fill out the Playroom Interest Form to join the playroom at their property. Residents will receive links to register for the playroom. Playroom fees include a $25.00 membership fee and a $25.00 refundable deposit per semester. All new members are required to complete a virtual playroom orientation session before gaining access to the playroom.
To ensure that everyone has the chance to use the playroom without exceeding room capacities (as outlined in the playroom policies above), we require that families use their assigned playroom for no more than two hours per day.
Please email gcp.playrooms@gmail.com to ask questions, check the status of your registration, or request accommodations.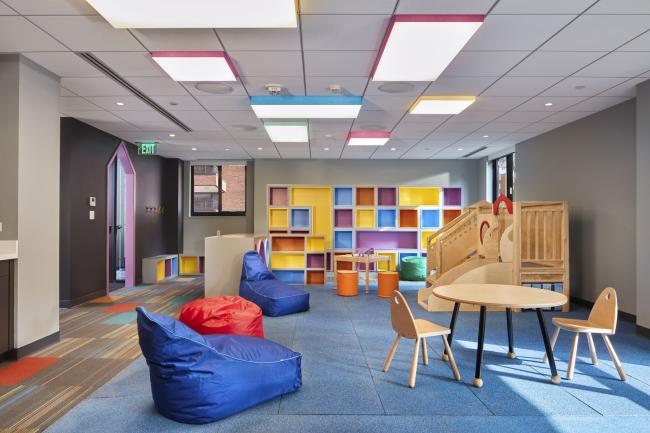 Study Rooms
Study rooms are available to HUH residents on a first-come, first-served basis and can be used for up to four hours at a time. No personal items may be left in the study rooms unattended at any time. (Items left behind will be confiscated and taken to Property Management.) Please keep the study spaces tidy and clean and practice good hand hygiene.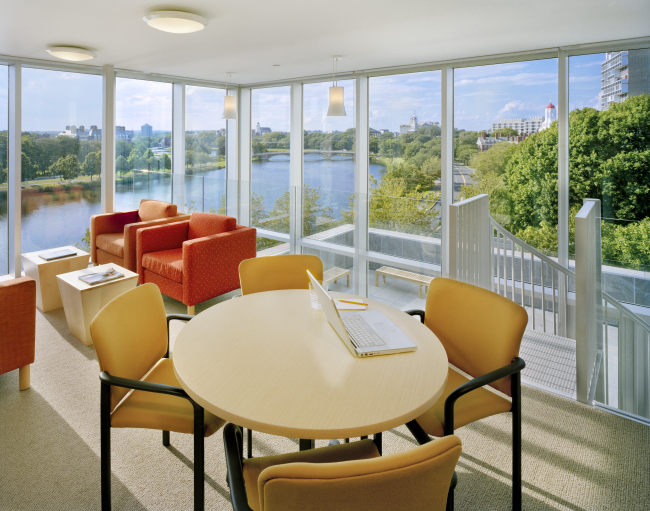 Common Rooms & Reservations
Residents may drop into any unreserved common room for casual use for up to 10 people. You must have a reservation to guarantee private use of these rooms for larger groups on specific dates and times.
Building Reservations:
Note: GCP events and private reservations take precedence over casual use, and residents can only reserve common rooms in the building where they reside.
For information or questions about common room reservations, please contact 617-496-5534 or email graduatecommons@harvard.edu during regular business hours.
Important Information About Common Rooms
Maintaining delightful, clean, and functional common spaces takes common effort from the whole community.
RESERVATION GUIDELINES
Residents are only allowed to reserve common space within the building that they reside, with the exception of Soldiers Field Park residents, who may reserve the One Western Avenue common room.
All reservations must be submitted at least seven days in advance of your event date. Residents are limited to one reservation per week.
All common rooms must be vacated by 11 PM in accordance with HUH quiet hours and may not exceed 4-hours in length as noted in our tenant policies and procedures.
Set-up and clean-up are part of the 4-hour reservation time. Be sure to build this time into your plans.
A fee of $25, paid via credit card, will be collected once your reservation has been confirmed. Additional fees may be charged if the Common Room is not cleaned appropriately, access cards are not returned, and all other policies are not followed. Please report any damage to the Property Management Office as soon as possible. Damage is the responsibility of the host. Fines begin at $100 (i.e. cleaning, damage, etc) and will be charged to your tenant account.
Access cards, if needed, must be picked up during regular business hours, unless advance arrangements are made. Otherwise, the $100 lockout fee will be charged if the after-hours on-call staff is called to provide access. Access cards not returned to the proper location after an event will result in a $100 charge as well.
HOST RESPONSIBILITIES
The event host must be present for the duration of the event and accessible via cell phone. NOTE: You must have a copy of the event confirmation email available at your event.
Hosts are responsible for the conduct of guests. Be sure that your guests are not disturbing residents of the community.
The event must be confined to the specific room requested. Guests may not loiter in hallways, outdoor spaces, or wander around the building. Hosts may NOT prop any doors (front doors or common room doors), as this is a safety concern. NOTE: No alternative rooms will be offered in the event of rain.
NOISE, COOKING, PROPS & DECORATION REGULATIONS
Sound enhancing devices (large speakers, subwoofers, etc.) are not allowed. If you require special A/V equipment, please contact the GCP Staff Assistant at graduatecommons@harvard.edu. (Note: There is no after-hours AV assistance.)
If you are cooking in the kitchen area of a common room, please be advised that many of these stoves have induction cooktops. Please use the appropriate cookware on these stovetops.
For the safety of all, inflatable devices (bounce houses, obstacle courses, tents, etc) are not permitted inside GCP common spaces.
Decorations should only be hung with painter's (blue) tape. All decorations must be removed after events, or they will be disposed of by HUH staff. Confetti, glitter, and open-flame candles are not permitted.
Be responsive and respectful to other members of the community, including Faculty Directors and staff, regarding noise level, etc.
All policies and procedures must be followed to ensure the continued use of these spaces for the entire resident population. Repeated instances of individual non-compliance may result in the loss of access to various common areas for those residents and their household members. Harvard University Housing reserves the right to close common areas as needed. Please send any questions to graduatecommons@harvard.edu.
Individual buildings may have different availability and room information. Please read carefully.
Select an open date on the calendar for your event at least one week in advance of your request date.
Only one event is allowed per day per room. Availability is noted by color blocks, "EVENT:" or "RESERVED:" on the calendar.
Complete the form and acknowledge that you have read all the policies and procedures listed here.
Please allow two-three business days for a reply from the Graduate Commons staff.
There will be "shut down" or "black out" periods during the year for extensive room maintenance or holiday breaks.
The room reservation fee is $25. Grad Commons reserves the right to charge your tenant account in increments of $100 for any damage or additional cleaning fees as a result of your reservation. Fees will be assessed following your event if the policies and procedures are not followed.
Reservations are required for private use of all common rooms. Reservations take precedence over casual use (10 and under).
All Common Room Reservations are subject to the Harvard Policy for the Safety & Protection of Minors. A parent/guardian must accompany their children at all times. Please read through the policies prior to submitting your room reservation.
Reservation inquiries should be directed to graduatecommons@harvard.edu.
Alcohol is allowed in our common rooms for residents 21 and older. All policies must be followed. Please contact graduatecommons@harvard.edu for full policy. 
As host of an event, you are responsible for all items listed below:
Please bring your own cleaning materials. Trash bags and Lysol wipes will be provided.
Remove all trash and recyclables to the proper location (outside of the room). Please check with Graduate Commons Staff or Property Management if you have questions about the proper location.
Clean all hard surfaces in the room (countertops, tables, etc.).
Sweep/mop the floor and pick up any food/dirt on the floor.
Ensure all stoves/ovens/microwaves have been turned off.
Turn off the lights/television/other electronic devices.
Remove all personal items from the room.
Return furniture to the appropriate position after use.
Do not move the piano or keyboards from their current location.